Syrian army in Lebanon is an occupation force violating UN resolution 520, and keeping Lebanese prisoners in Syria.. Syrian pullout is a national requirment

Everyone has the right to life, liberty and security of person.
We had enough steeling and robberies. They stole our freedom, wealth, values and pride. Just get out before it is too late.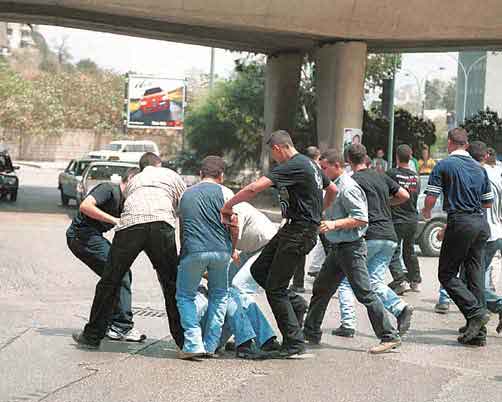 No one shall be subjected to arbitrary arrest, detention or exile.
TO OUR LEADER

No matter what they say, no matter what they do, we will never lose hope.
we will never bow, nor will we ever give up the cause. We will always be faithful to the one man who showed everyone the meaning of courage, honor and loyalty, to our great leader who did not abandon us, who stood by us shoulder to shoulder. To the person who has become the cause, to you Dr. Geagea we promise to always be strong and never lose faith no matter how hard things get, because in the end the righteous will prevail, and we are the righteous ones. We have sacrificed our blood for the freedom of our country and our people. We gave our country our best and that is why we will prevail. Dr. Geagea we are proud of you and we are proud to have you as our leader.


syria are an occupation force and they must leave.
No one shall be subjected to torture or to cruel, inhuman or degrading treatment or punishment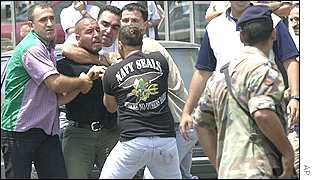 There is no doubt that the syrians are not welcome in lebanon there existance in lebanon is the cause of many problems,lebanon is a free country and the syrian must withdraw immediatly so we can keep the relationship healthy.
Everyone is entitled in full equality to a fair and public hearing by an independent and impartial tribunal, in the determination of his rights and obligations and of any criminal charge against him
Charaf Tadhie Wa Wafak
All are equal before the law and are entitled without any discrimination to equal protection of the law. All are entitled to equal protection against any discrimination in violation of this Declaration and against any incitement to such discrimination
Here's another picture of supporters of our cause.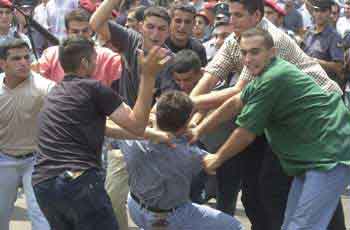 The Barbarians
Article 20. - Judicial power functioning within the framework of a statute established by law and ensuring essential guarantees to judges and the disputing parties is exercised by courts of different order and degrees.The law fixes the limits and the conditions of the magistrates' tenure of office. Judges are independent in the exercise of their functions. The awards and judgments of all courts are rendered and executed in the name of the Lebanese people.

We had enough steeling and robberies. They stole our freedom, wealth, values and pride. Just get out before it is too late.

Listen Bashar if you can,
No one, No one should ever dare to tell us who we are and to what we belong.
we are Lebanese, period. We belong to Lebanon, period. so stop barking and
loosing your voice in thin air, Lebanon is in the ME to stay for ever.. Man
if Israel endured with all its differences, and now all of you rushing to
proclaim your acceptance of its identity, even some making it part of their
arabic constitution, you still can't accept Lebanon. and why? because of its
Maronites or christians, why?
and you dare to disgrade our anthem by indicating it doesn't express our
feelings. Listen you are wrong, the anthem belongs to us, the flag belongs
to us, and lebanon is ours and ours alone. Get it?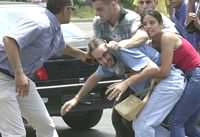 Freedom