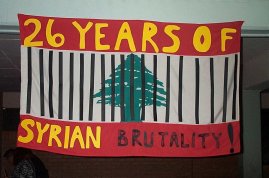 Father Joseph Charbel said a prayer, then M.C. Fouad Neaman al Khoury introduced Mr. Michel Farah Media Liaison of the Lebanese Liberal Party announced events and activities that have taken place around the world in condemnation of the recent arrests and human right abuses in Lebanon. Mr. Joe Arida the General Secretary of the WLCU spoke of recent and future activities in Australia. Mr. Charbel Khoury who was at the thick of the action in Lebanon told of the brutality he witnessed on the hands of civilian clothed Syrian Intelligence. The night ended on a promise of continuing actions in the not so far future.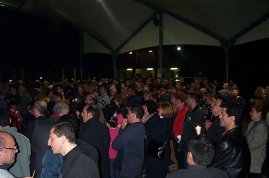 BRISBANE

In an accompanying manner the United Australian Lebanese Movement's Queensland Branch along with the Australian Lebanese Association of Queensland held a Candle Light Vigil at the ALAQ Community Hall in Tarragindi.

Present were hundreds of Australian Lebanese from all religious and political affiliations, Members the Lebanese Clergy and Federal Member of Australian Parliament the Honourable Gary Hardgraves.

Powerful speeches were given by Mr George Chemali, Mr Alex Ziadeh, Mr Antione Ghanem and by the Honourable Mr Hardgraves. The Australian Lebanese Community left the event with a renewed sense of hope and determination in the struggle for Liberation.

Future events and lobbying were explained to the community by the UALM where there was a consensus of unity and backing from all that were present.