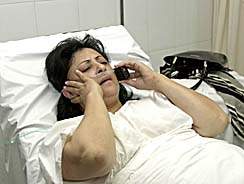 Tony's mother in hospital after police assaulted her.
Gen. Aoun's activist Tony Orian has called off his 4-day hunger strike in jail after he was rushed to hospital,
suffering from physical collapse, authorities announced on Tuesday.
Orian's affair had captured the imagination of the nation as his mother, relatives and friends picketed the Roumieh
prison Monday to proclaim their solidarity with fasting young man behind bars.
Orian, serving a jail term for distributing a statement issued by Gen. Aoun from his exile in Paris three weeks
ago, was taken by ambulance to Dahr Al Bashek government hospital, shortly after his mother was hospitalized after
a dustup with prison guards.
Police had roughed up the picketers to disperse them and a statement said the action was taken to stop the protesters
from disrupting work inside the government prison.
But the mothers, young men and women who staged the picket said in interviews broadcast live by several Beirut
television networks that they were beaten up although their protest was orderly and peaceful.
The police statement contended the protesters were "pushed away, not beaten."
Orian's mother, Leila Orian, 45, who has a heart condition spent the night in Abu Jawdeh hospital, suffering from
nervous disorders.
She received a call on her mobile telephone from Gen. Aoun, who said, "You have to stand fast although the crime is
unrelenting, even against mothers."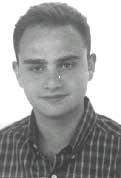 New arrests in Lebanon
(SOLIDE): Toni Orion is an active element in the 'Free Patriotic Movement' in Lebanon. He was, alongside his colleagues Toni Harb and Maroun Nassif, unlawfully arrested by the Lebanese authorities for distributing the 'Lebanese Bulletin' that was already published in all local Lebanese newspapers and aired by all TV stations. In violation to their constitutional rights, they were illegally sentenced to 45 days in prison. The illegal sentences by the military court, violates:
- articles 8 and 14 of the Lebanese constitution
- articles 224 and 225 of the Lebanese penal code
In addition to the articles stipulated in the 'International Covenant on Civil and Political Rights'
Today, Toni Orion officially declared a hunger strike. He is demanding the following:
1-The authorities should revoke all the sentences against all who were illegally arrested in the latest campaign.
2-The Central Security Council should go back on its decisions that severely violates the very basic human rights
3-The authorities should arrest and put to trial all those responsible for the latest crackdown campaign.
URGENT ACTION IS NEEDED:
Please send appeals and letters of support to arrive as quickly as possible,
in English, Arabic, French or your own language:
- calling for all prisoners of conscience detained for their involvement with the LF and the FPM to be released immediately and
unconditionally;
- urging the authorities to allow an independent medical team to supervise Toni's hunger strike.
- stating that civilians should not be tried by the Military Court.
-adopting the conditions put forth by Toni Orion.
Ghazi Aad
Support of Lebanese in Detention and Exile (SOLIDE)



Paul Bassil with bruises after he was assaulted by police

Activists Freed, but Lebanon on Edge
Lebanon releases jailed Christian activists
Signs of Syria's shadow over Lebanon
Journalist referred to Lebanese military court amid crackdown
Little old but intresting "Lebanese fight Syria's grip"